Erosion & Sediment Control
Erosion and Sediment Control Plan Template
Timber Harvest Erosion and Sediment Control Plan Template
Erosion Control Regulations | What is an Erosion & Sediment Control Plan? |
Who Can Submit the Erosion & Sedimentation Control Plan? | NPDES Permits
Erosion and Sediment Control Plan Review Fee Schedule
---
Title 25 Chapter 102 – Erosion Control Regulations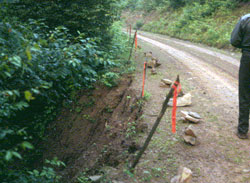 The purpose of Chapter 102 – Erosion Control Regulations is to implement the intent of the Clean Streams Law of Pennsylvania. The Clean Streams Law prohibits the discharge of any substance which creates a nuisance into the waters of the Commonwealth. Sediment is rated the number one pollutant by volume to Pennsylvania's waters and is listed as a nuisance.
Chapter 102 (available online at pacode.com) is a set of rules and regulations administered by the Pennsylvania Department of Environmental Protection, Bureau of Water Quality. The objective of these regulations is to eliminate or limit sediment pollution created as a result of earth disturbance activities. Anyone who disturbs vegetation or exposes the earth's surface to the forces of erosion is subject to these controls. The primary element of Chapter 102 is the Erosion and Sediment Control Plan.
---
What is an Erosion & Sediment Control Plan?
(Commonly referred to as an E&S Plan)
Regulations require that every project that involves disturbing the earth develops an E&S Plan.
An E&S Plan is a written plan that describes how erosion and/or sedimentation will be controlled during an earthmoving project. The idea is to control muddy water so that it does not enter a stream or other waterway. It is easier to plan the project so that it does not create muddy water, however this is not always possible. In such cases, it is necessary to filter the runoff before it enters a stream. Construction practices that help reduce or prevent sediment from entering a stream or waterway are commonly referred to as Best Management Practices (BMPs). Some common BMPs include:
Keeping equipment on the bank
Working during low-flow times
Pumping water around project
Blocking around work area
Temporary seeding and mulching
Using silt fencing, straw bales, rock filters, etc.
There are 11 basic areas that should be addressed in an E&S Plan:
Topographic features
Soil Type
Proposed alterations
Runoff
Chapter 93 designation
Location and description of BMPs
Sequence of installation and removal of BMPs
Supporting calculations
Plan drawing or photos
Maintenance program for inspection of BMPs
Proper measures for recycling or disposal of materials
---
Who Can Submit the Erosion & Sedimentation Control Plan?
§102.5. Erosion and sedimentation control plan.
The erosion and sedimentation control plan shall be prepared by a person trained and experienced in erosion and sedimentation control methods and techniques.
If a record of training and experience is not provided with the submission of an Erosion & Sedimentation Control Plan, a determination of qualifications shall be based on the plan under review.
The Crawford Conservation District will accept an Erosion and Sedimentation Control plan prepared by anyone who demonstrates knowledge of Erosion & Sedimentation Control, whether it is an engineering firm, a contractor, a homeowner, or forester.
---
Erosion and Sediment Control Plan Review Fee Schedule
For a copy of the fee schedule click here
---
NPDES Permits
For copies of the NPDES permit application please visit the DEP web site.
For information on the new Post Construction Stormwater Requirements, please visit the DEP web site.