Which Watershed Do You Call Home?
By Lisa Flinn, Crawford County Conservation District Intern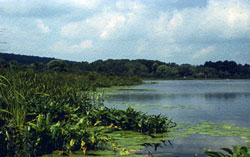 The map shown here depicts the different watersheds in Crawford County Crawford County Watershed Map. You can actually find your "Watershed Address." Instead of thinking, "I live at 916 Martin Street (for example), which is in Meadville, which is in Pennsylvania, which is on the Eastern half of the U.S., etc.," one could think, "I live by Cussewago Creek, which flows into French Creek, which meets the Allegheny River to flow into the Mississippi, etc." By thinking in terms of watershed boundaries instead of municipal boundaries, we can begin to have an appreciation of the environment we live in and how we can do the least harm to it.
Now, can you find the watershed where you live? Where you work? Where your friends/relatives live? Are you geographically connected to a friend's house by a creek or by living in the same watershed? What is upstream which might affect you? What communities are downstream from you? Click Here to visit the Crawford County Watersheds Locator and find your watershed Address!