CASH Conneaut Conservationists fared well at the 2017 PA State Envirothon Competition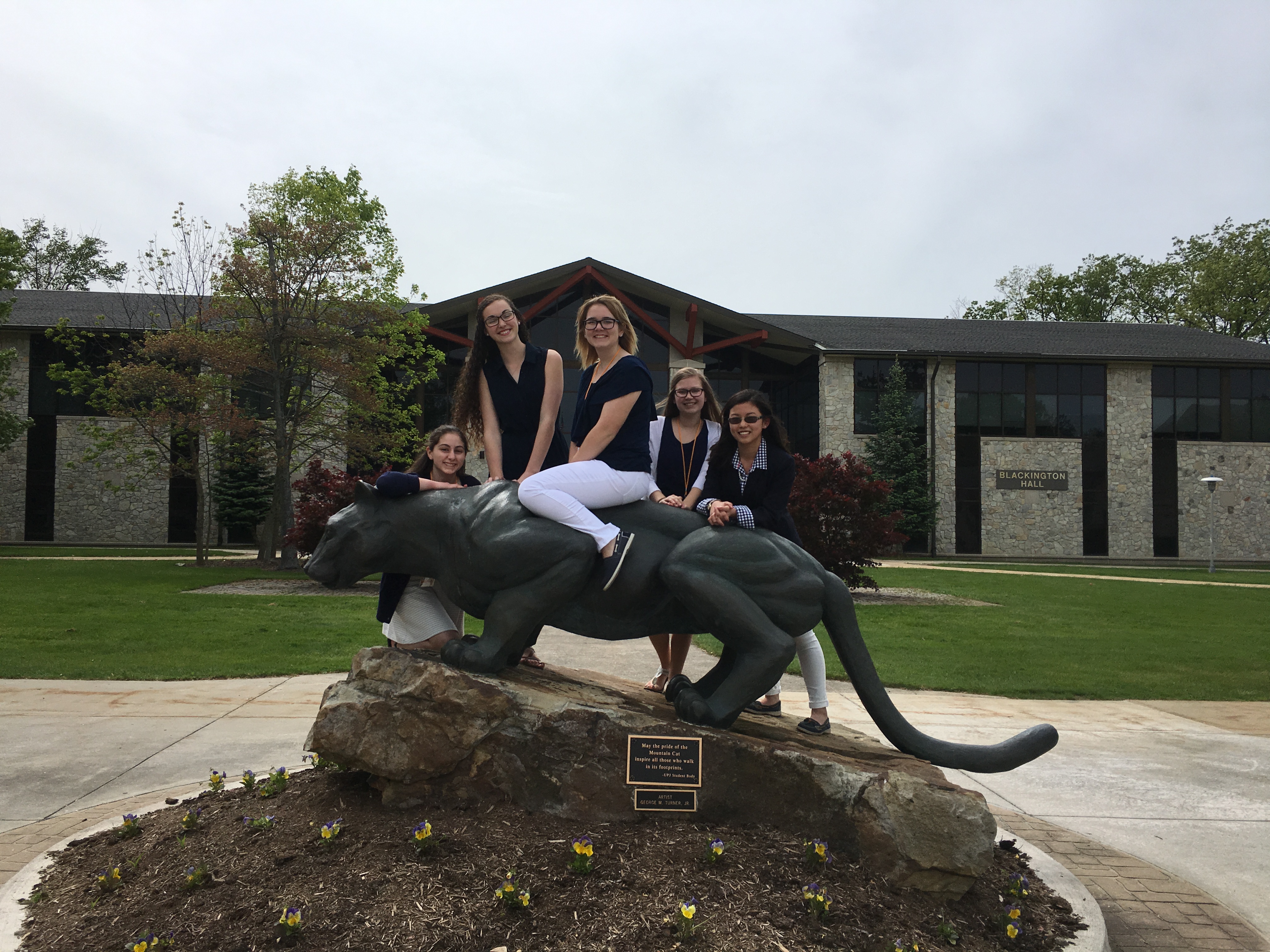 The "Conneaut Conservationists" Envirothon team from CASH (Conneaut Area Senior High) won First Place for Crawford County at the Crawford/Mercer County Joint Envirothon on May 3, and moved on to represent Crawford County at the 34th Pennsylvania Envirothon state competition that was held at the University of Pittsburgh, Johnstown, PA, on May 23 and 24, 2017. The CASH team placed 21St out of 64 total teams Members of the Conneaut Conservationists are: Rebekah Shearer, Kaitlyn Royal, Keely Ritter, Megan Kantz, and Lianna Byler. (LEFT TO RIGHT IN PHOTO) Their team Advisor is Amber Heil, an Environmental Science Teacher at CASH
At the Envirothon, five-member teams participate in a series of field station tests that focus on five topic areas – soils and land use, aquatic ecology, forestry, wildlife, and environmental issues. The 2017 current environmental issue focused on Agricultural Soil & Water Conservation Stewardship.  The teams also prepare and deliver oral presentations to panels of judges who evaluate each team on its problem-solving capabilities, oral presentation skills and recommendations to help solve the specific environmental challenge, which relates to the current environmental issue. The Conneaut Conservationists had the 2nd highest score in the oral presentation skills category this year.
Teams participating represent the best and the brightest of the thousands of high school teens who have competed in county Envirothon competitions sponsored by conservation districts from across the state. At the state level, the Envirothon is sponsored by Pennsylvania's sixty-six county conservation districts, the State Conservation Commission, and the Pennsylvania Association of Conservation Districts.  The program is managed by a board of directors representing those sponsors.  Technical expertise is provided by the following partners:  PA Department of Agriculture, PA Department of Environmental Protection, PA Department of Conservation and Natural Resources, PA Game Commission, PA Fish and Boat Commission, and U.S.D.A. Natural Resources Conservation Service.  Sponsors and partners of the 2017 Envirothon are PA Department of Environmental Protection, Shell Oil Company, The Hershey Company, EQT Foundation, Philadelphia Insurance Companies, Weis, SWN, Chief Oil & Gas LLC, UGI Utilities, National Conservation Foundation Envirothon, and Pennsylvania Department of Education.
The 2017 Pennsylvania Envirothon champions will represent the Commonwealth at the 29th   North American competition planned for July 23 – July 29 at Mount St. Mary's University, Emmitsburg, Maryland.  More than 46 states, eight Canadian provinces, and one Canadian territory have initiated Envirothon contests based on the program that was originally developed by Pennsylvania's conservation districts.